The Pietra di Bismantova

The Pietra di Bismantova, sacred and almost magical mountain looks like a huge arenaceous rock with a peculiar conformation: it's in fact a massive block of the Miocene limestone type, on top of which lies a vast grassy plateau of 12 hectares.
It is among the most renowned symbols of the Appennino tosco – emiliano National Park.
Everywhere from the ridge you can see its distinctive shape "of a cliff between the soft forage crops that connotes a unique Apennine landscape, with ancient human settlements, celebrated by travelers and poets such as Dante, a destination for climbing, hiking and pilgrimages. La Pietra is a place of many values: the geology and literature, history and spirituality, of mountaineering and the Parmesan cheese, tourism and farming activity, nature and landscape"*.
It is now the destination for many tourists who visit the most scenic spots, trails and paths through the woods, clearings and stony up to the top.
* Reference: Very ancient Bismantova, by Iames Tirabassi
The Bismantova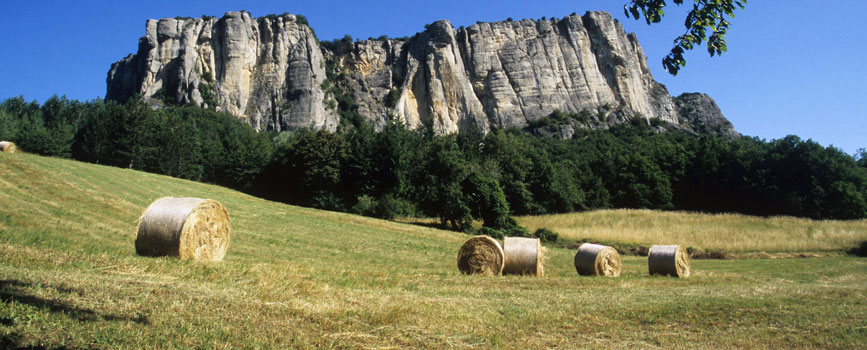 The Bismantova is the strip of green forage crops interspersed with forests and farming villages that crowns the Stone and its walls of gray sandstone. It winds through the villages, from Carnola to Campolungo, through Ginepreto, Vologno, Maro and Casale, connected by a road that makes a scenic loop of 16 km, engaged for a short distance on the SS 63 up to Castelnovo né Monti. This area, that stretches south to the Secchia and Triassic gypsum, is now home to quality agriculture gathered around to dairies of Carnola and Casale. Here are active points of direct sale of local products, dairy and beyond. The villages, once exclusively agricultural, are gaining more pronounced value and residential connotations, thanks to the quality of the landscape and the favorable exposure.
Near the ancient church of Ginepreto, in a panoramic position between the stone and the Apennine ridge, you can find the farm Il Ginepro, also Park Visitor Center.
A network of trails, agricultural ruts, originates from the surrounding villages to the cliff of Bismantova, reaching the highest ring of the routes surrounding the rocky part and joining with access to the summit. Reaching the Pietra from the farming villages, through the green belt that surrounds it, it is an opportunity for easy hikes, easily accessible and of different lengths, enjoying always different breathtaking views.
The Apennino Tosco – Emiliano National Park

The Apennino Tosco – Emiliano National Park covers over 26,000 hectares on the high Apennine ridge (Mt. Cusna 2120 msl), which is the climatic and historical border between Europe and the Mediterranean. Thanks to this, it offers a rich collection of landscapes, biodiversity (approximately 65% of the species present in Italy) and agro-biodiversity. It's the place of production of over 60 PDO, PGI and Traditional products including Parmigiano Reggiano and Parma ham.
The Pietra di Bismantova is located on the north side of the park, along the secondary ridge that separates the valleys of the Enza and the Secchia rivers.
Find more on Parco Nazionale dell'Appenino Tosco Emiliano website >>